Terms & Conditions
Bracket Brewing Company Pty Ltd Terms and Conditions
Background

Bracket Brewing is a brewer and supplier of craft beer.
These Terms and Conditions ('T&C') provide the basis for co-operation between Bracket Brewing and the Customer and the Customer will be bound by these T&C.

Definitions

'Bracket Brewing'

 

means Bracket Brewing Company Pty Ltd (ABN 96 624 003 989) of 21 McCauley Street, Alexandria. NSW. Australia its related entities, successors and assigns or any person acting on behalf of and with the authority of Bracket Brewing.
'GST'

 

means any tax pursuant to the

 

A New Tax System (Goods and Services Tax) Act, 1999 (Cth)

 

and any subsequent legislation.
'Customer'

 

means the person or entity to which the Product is being provided by Bracket Brewing pursuant to this agreement.
'Price'

 

means the cost of the Product provided on the official website store of Bracket Brewing or in a quotation to the Customer by Bracket Brewing or its representative.
'Product'

 

means the beer or other alcoholic beverages supplied by Bracket Brewing to the Customer as described in the website or invoices provided by Bracket Brewing to the Customer.
'Terms and Conditions ('T&C')'

 

means the conditions contained in this agreement.

Term of Agreement

This agreement commences once the Customer agrees to the T&C.
The Customer agrees to pay to Bracket Brewing the Price prior to dispatch of the Product or as agreed in writing with Bracket Brewing.
Bracket Brewing reserves its right not to ship the Product if a required payment is not received.

Acceptance

Any instructions received by Bracket Brewing from the Customer for the supply of the Product and/or the Customer's acceptance of the Product supplied by Bracket Brewing shall constitute acceptance of the T&C.
Where the Customer consists of more than one party, the parties (collectively the Customer) shall be jointly and severally liable for all payments of the Price.
The Product is supplied by Bracket Brewing only on these T&C to the exclusion of anything to the contrary in the terms of the Customer's order notwithstanding that any such order is placed on terms that purport to override these T&C.

Price And Payment

By the Customer placing the order, the Customer accepts the Price and agrees to pay the Price before shipment of the Product unless otherwise agreed in writing between the Customer and Bracket Brewing.
At the sole discretion of Bracket Brewing, where agreement is reached to ship the Product before payment the agreement will be in writing and will form part of these T&C.
Payment will be made by credit card or by direct credit or as agreed in writing between the Customer and Bracket Brewing. A surcharge of 2% may be applied to payments made by credit card.
GST and other taxes and duties that may be applicable shall be added to the Price except when they are expressly included in the Price.

Processing and Delivery

The Customer's order will be processed each Monday to avoid shipping during a weekend due to the perishable nature of the Product.
The product will be shipped within 48 hours of processing the Customer's order.
Estimated delivery time will vary based on time of order, shipping method selected and customer's delivery address and is expected to be 2-7 business days for Sydney metro & 3-10 business days regional & interstate.
Despatch of the order will be via the delivery method selected by the Customer and the cost of the selected delivery method added to the Price.
Delivery of the Product to a third party nominated by the Customer is deemed to be delivery to the Customer.
Bracket Brewing may deliver the Product by separate shipments. Each separate shipment shall be invoiced and paid in accordance with the provisions in these T&C.
The failure to deliver shall not entitle either party to treat this contract as repudiated.
Bracket Brewing shall not be liable for any actual or foreseeable loss or damage whatsoever due to failure to deliver the Product (or any separate shipment of the Product) promptly or at all, where the failure is due to circumstances beyond its control or where a freight shipper is used.

Risk

Risk for the Product passes to the Customer on shipment of the Product.

Returns

Returns will only be accepted on condition that:

the Product is defective;
the Product is returned within 7 days of the delivery date; and
the Product is unopened.

Bracket Brewing is not liable for Product which has not been stored in a proper manner.

Disputes

In the event of a genuine dispute, Bracket Brewing will attempt to resolve the matter to the satisfaction of the Customer within 14 days of notification of the dispute. If the dispute cannot be resolved either party may refer the matter to Fair Trading NSW for resolution.

Privacy (including internet site)

Bracket Brewing Company Pty Ltd ('Bracket Brewing') is bound by the

 

Australian Privacy Principles

 

('APP') contained in the

 

Privacy Act

 

1988

 

(Cth) as amended from time to time.

What kind of personal information does Bracket Brewing collect?
The type of information that may be collected or stored includes (but is not limited to) personal information, including financial and other sensitive information, about:

contact information of clients such as full names, postal addresses, email addresses, residential and/or business addresses;
limited financial information of clients;

Personal Information you provide:
Bracket Brewing will generally collect personal information held about an individual or company by way of orders placed electronically,

How will Bracket Brewing use the personal information you provide?
The primary purpose of information collection is to provide products to clients and we may use personal information we collect from you in the following areas:

where it is reasonably necessary for, or directly related to, one or more of the products provided;
as authorised by you.

The purposes for which we uses personal information of Clients include:

day-to-day administration;
management of product supply;
marketing of Bracket Brewing products.

If we receive unsolicited personal information, we will determine if we could have collected the information and if the information is not of the type we could have collected will, if lawful, destroy the information, provided it is not contained in a Commonwealth record.

Who might Bracket Brewing disclose personal information to?
We may disclose personal information, including sensitive information, held about a client to:

law enforcement agencies where we have reason to suspect unlawful activity or misconduct of a serious nature that relates to the business of Bracket Brewing;
financial and credit institutions including, but not limited to, credit card companies and credit reporting agencies;
in order to prevent a serious threat to life, health or safety of an individual or public safety;
anyone you authorise Bracket Brewing to disclose information to; and
anyone to whom we are required to disclose the information to by Law.

Management and security of personal information
Bracket Brewing respects the confidentiality of personal information and the privacy of individuals and has procedures in place to protect the personal information it holds from misuse, interference and loss, unauthorised access, modification or disclosure by use of various methods including locked storage of paper records and password access rights to computerised records.
Bracket Brewing does not retain credit card information.

How does Bracket Brewing deal with sensitive information?
'Sensitive information' means: information relating to a person's racial or ethnic origin, political opinions, religion, trade union or other professional or trade association membership, philosophical beliefs, sexual orientation or practices or criminal record, that is also personal information; health information and biometric information about an individual.
Sensitive information will, unless you agree otherwise, be used and disclosed only for the purpose for which it was provided or a directly related secondary purpose or where the use or disclosure of the sensitive information is allowed by Law.

Access and correction of personal information
Under the APP an individual has the right to obtain access to any personal information which Bracket Brewing holds about them and to advise of any perceived inaccuracy.
There are some exceptions to these rights set out in applicable legislation. You should refer to this legislation for further information on your rights.
To make a request to access or update any personal information please contact us in writing. If we cannot provide you with access to that information, we will provide you with written notice explaining the reasons for the inability.

Sending information overseas: 
Bracket Brewing will not send personal information about an individual outside Australia without:
obtaining the consent of the individual (in some cases this consent will be implied); or
otherwise complying with the APP or other applicable privacy legislation.
Bracket Brewing may store personal information in the 'cloud' which may mean that it resides on servers which are situated outside Australia.

Enquiries and complaints
If you would like further information about the way Bracket Brewing manages the personal information it holds, or wish to complain that you believe we have breached the APP, please contact our office during normal office hours or at info@bracketbrewing.com.
We will investigate any complaint and will notify you of our decision in relation to your complaint as soon as practicable.
General

If any provision of these T&C shall be invalid, void, illegal or unenforceable the validity, existence, legality and enforceability of the remaining provisions shall not be affected, prejudiced or impaired.
These T&C replace any previous agreement governing the relationship between the Customer and Bracket Brewing.
Bracket Brewing shall be under no liability whatsoever to the Customer for any indirect and/or consequential loss and/or expense (including loss of profit) suffered by the Customer arising out of a breach by Bracket Brewing of these T&C.
In the event of any breach of these T&C by Bracket Brewing, the remedies of the Customer shall be limited to damages which are capped at the Price.
The Customer agrees that Bracket Brewing may change these T&C at its sole discretion and any subsequent change will take effect from the date on which Bracket Brewing notifies the Customer of such change.
The failure by Bracket Brewing to enforce any provision of these terms and conditions shall not be treated as a waiver of that provision, nor shall it affect Bracket Brewing's right to
subsequently enforce that provision or any other provisions of these T&C.
This document embodies the entire understand and agreement between the parties as to the subject matter of this document.

Governing law

These T&C are governed by the laws of New South wales, Australia and the Courts of New South Wales will have non-exclusive jurisdiction to adjudicate any disputes.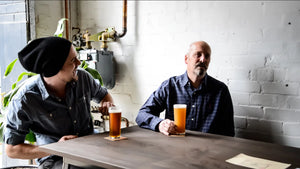 Mike & Mark
We're a deliberately small, family run independent nanobrewery in the heart of Alexandria, Sydney. No big investors, no big sales contracts.
We produce an ever-changing array of well-crafted beers we love to drink and that we are proud to share with you.
Keen on some light reading?
Check out the Crafty Pint's Who Brews article for more info on our brewers, this great article by Broadsheet about us or this quick brewery guide by SMH Good Food